Preschool
Following feedback from local families, we are delighted to announce that from September 2023, St Andrew's will be running our own preschool based at school. For children aged 3+ with funded places available for 15/30 hours. Located on site and as part of our school family with access to our fabulous outdoor spaces, well-equipped classrooms and supportive and caring staff, your child will be guaranteed the very best start to their education through our preschool. To enquire or book in, please email office@sta.learnat.uk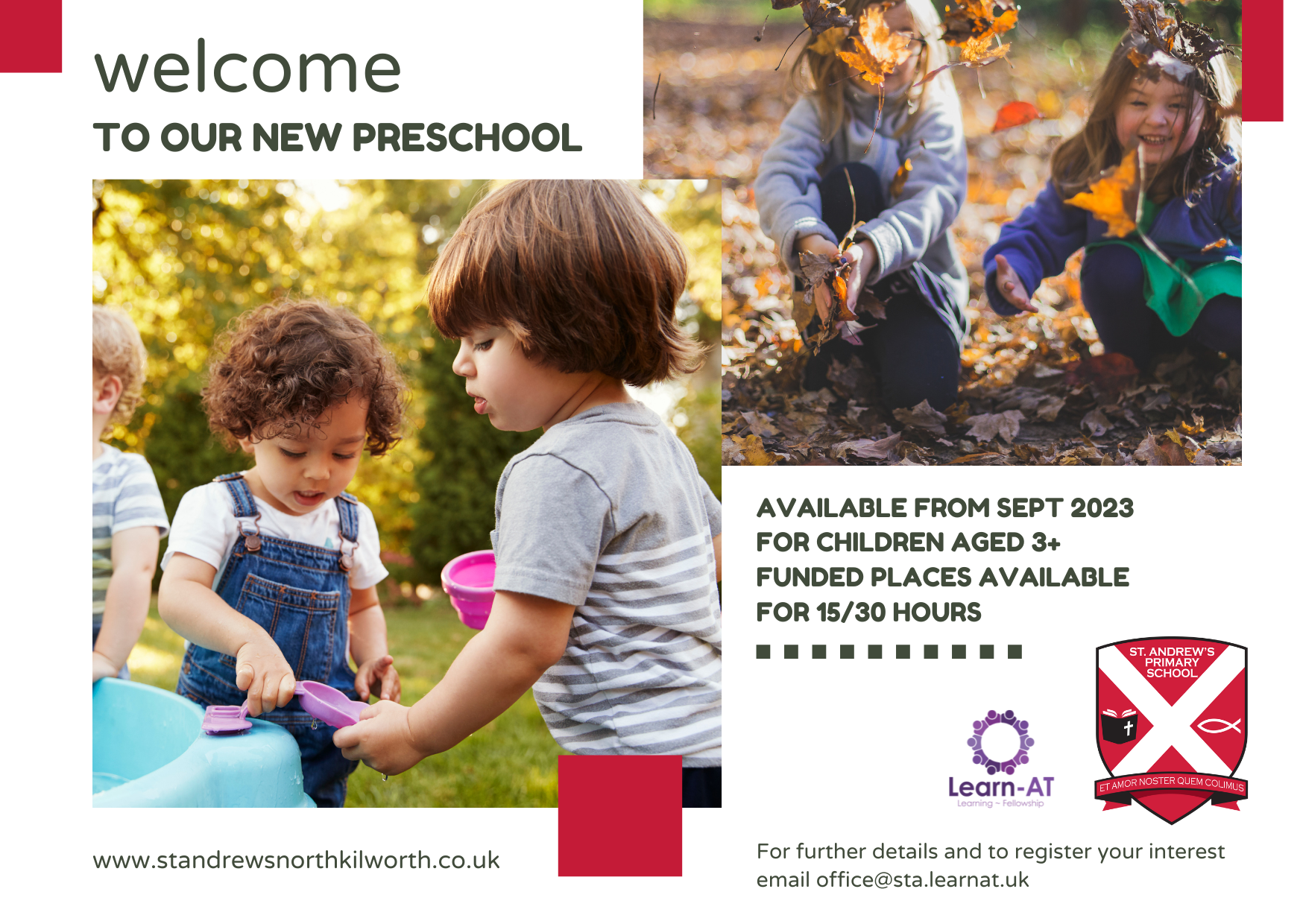 We appreciate that choosing a preschool for your child is a big decision, and you are always welcome to come and visit us during term time to get a feel for our school and our preschool. In the meantime, below are a few key Questions and Answers. For our full Terms and Conditions, please see the document attached below, but if you have any questions please email office@sta.learnat.uk any time or call 01858 880 430 during term time.
What can I expect from your Preschool?
We will provide your child with the best start to their education via a teacher led and play based learning curriculum. They will be based within our Early Years Foundation Stage (EYFS) unit alongside our Reception children. The Class will be lead by a qualified EYFS Teacher and supported by a Teaching Assistant. The unit is a modern, light and airy classroom with its own secure, multipurpose playground, located alongside the main school building. We also have lots of great, outdoor spaces where the children can explore, play and learn.
Our EYFS Teachers at St Andrews are Mrs Vesty and Mrs Owen; while our Teaching Assistant is Miss Leeder-Douglas.
What is the Preschool Provision / FEEE Offer?
We offer places for children aged 3+ in our mixed Reception/Preschool class, with a qualified teacher. Children are eligible to join in the term after their 3rd birthday.
We offer free funded places (FEEE) of up to 15 hours (universal offer, for all 3 and 4 year olds) and 30 hours per week (known as the extended offer, for eligible parents), as well as paid hours on a flexible basis (subject to availability).
Qualifying parents have an entitlement of 570 (ie 15 hours x 38 weeks) or 1,140 (ie 30 hours x 38 weeks) hours of funded provision in a year. As much or as little of this as be taken, as you wish.
Any parent using hours in excess of their free entitlement will be subject to the charges as detailed below.
Our Pre-School is open Monday to Friday, 38 weeks per year (term time only). We are closed on Bank Holidays and do not charge for these days. We do not offer stretched funding.
What will the costs be?
Morning Session [9.00am -12.00pm; 3 hours] £6.00 per hour = £18.00 per morning or 3 free funded hours
Full Day [9.00am -3.00pm; 6 hours] £6.00 per hour = £36.00 per day or 6 free funded hours.
An 8.50am start is available at an extra charge of £1.00 per day. If a 3.15pm pick up is required, this is available at an extra charge of £1.50 per day. We reserve the right to make additional charges for late pickup. These will be charged at £6 for an hour or any part thereof. Additional charges will apply for items such as: nappies, trips and visits.
Do you support families on low incomes?
Yes, we are able to offer the following support -
Early Years Pupil Premium: This provides additional funding to providers to support disadvantaged three- and four year-olds in early years settings. For further information on how to apply, please contact the school office.
Government tax-free Childcare: We are registered for the Government Tax-Free Childcare scheme, our provider reference is: 50075039397. This scheme can be used for paid childcare hours. For further information please click HERE
Childcare Vouchers:We accept Childcare vouchers for paid childcare hours and are currently registered with the following schemes: Care4, Fideliti and Edenred. If your employer uses a different scheme, please email the office and we will set up an account.
If my child is staying for a full day, will they need a packed lunch?
Yes, a packed lunch will be required. We are a nut-free school, please ensure there are no nut-related ingredients. School dinners are not available to preschool children.
Do you offer wraparound care for preschool children?
We are unable to offer breakfast or after-school club care to preschool children at the moment, however will be looking into this in the future.
Does my child need to wear a school uniform?
School uniform is optional for preschool children. However, if they would like to, items can be purchased from our uniform supplier - please click HERE for details
If we join preschool, does that mean my child will automatically be enroled in your Reception Class for the following year?
Unfortunately not, the usual Admissions process still applies. Our School Admissions criteria can be found by clicking HERE
To apply for a school place please visit Leicestershire County Council website by clicking HERE